The dirty power cartel has been ripping Australians off for years. Now we have the stats to prove it, and the big polluters aren't happy. 
GetUp's new Dirty Power Games report has torn through the spin to expose the blatant price gouging of Australia's Big Three energy companies – AGL, Origin and EnergyAustralia. 
The report finds that the mark-ups these retailers charge in NSW, Victoria, Queensland and South Australia is 2-3 times the amount that's charged in the ACT, where power prices are regulated.1 
In short, the biggest polluters of the energy industry are ripping off customers around the country. It looks something like this: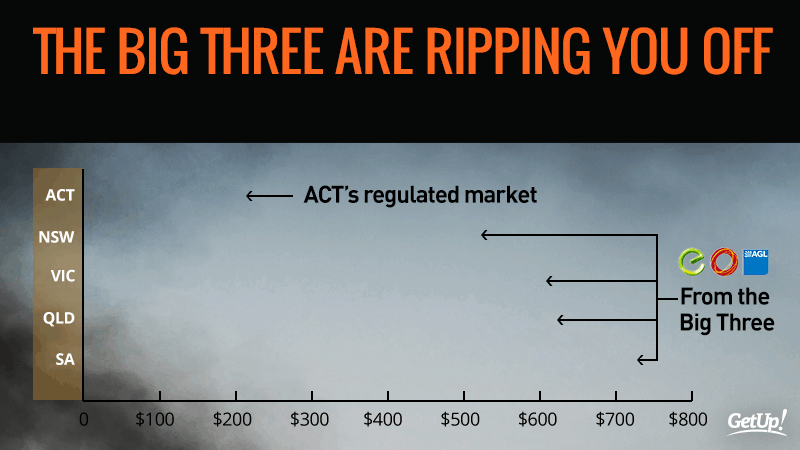 If you've been getting ripped off by one of the Big Three dirty energy companies, you don't have to put up with it any longer. In the past two years we have switched almost 17,000 people to Powershop through our Better Power campaign. 
In just a few weeks, two of the Big Three – AGL and Origin – will hold their annual general meetings in Sydney, presenting results that include more than $4 billion in combined revenue from their consumer retail arms. 2,3 
Thanks to our report, these companies' unjustifiably high retail mark-ups have been exposed with a wave of damaging headlines that prompted the Energy Council lobby group to come out swinging.4,5,6,7 
As customers, we may not get to take part in the AGMs - but we can still vote with our wallets. That's how we can show these corporations that they cannot take their customers for granted. If they rip us off, we'll ditch them. 
Together, we can force these companies to put people and the planet first by impacting their bottom lines. And the more people that switch away, the more they'll listen. 
Will you send a message to the Big Three that their price-gouging, polluting behavior will lose them retail customers? 
References 
[1] Australia's retail electricity markets: who is serving whom?- report by Bruce Mountain 15th August 2016 
[2] AGL annual report - released 26th August 2016 
[3] Origin Energy annual report - released 18th August 2016 
[4] Shocking charges of the big power players - Channel 10, 16th August 2016 
[5] Big Three energy retailers charging twice the rate of ACT - SMH, 16th August 2016 
[6] Electricity retailers marking up prices in SA – ABC News Online, 16th August 2016 
[7] Big power firms attack GetUp! over Powershop kickbacks -Australian Financial Review, 18th August 2016
Do you like this post?